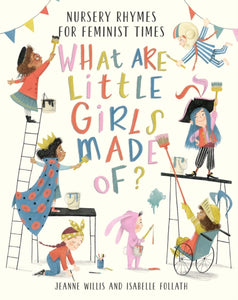 Award-winning author, Jeanne Willis, revamps all the favourite Mother Goose Nursery Rhymes.
Think you know your favourite classic nursery rhymes? Read this picture book and think again! In this witty reworking of popular nursery rhymes, Georgie Porgie doesn't dare to make the girls cry, Little Bo-Peep's sheep are all present and correct, thank you, and it's the queen, OF COURSE, who fixes Humpty Dumpty.
With the combination of Jeanne Willis's brilliantly funny poems and charming, witty illustrations from Isabelle Follath, these nursery rhymes prove that girls can be the heroes of any story. This remixed nursery rhyme collection is the perfect gift book for any child (or adult!), to read aloud or enjoy alone.
Every Nosy Crow paperback picture book comes with a free "Stories Aloud" audio recording. Just scan the QR code and listen along!

Tags:
Baby & Toddler
Christmas
Picture Books
Poetry