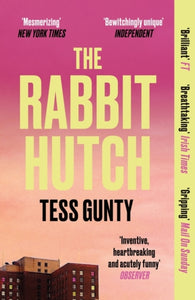 Welcome to The Rabbit Hutch.
An online obituary writer. A young mother with a secret. A woman waging a solo campaign against rodents. Separated by the thin walls of The Rabbit Hutch, a low-cost housing complex in the run-down Indiana town of Vacca Vale, these individual lives unfold.
But Blandine isn't like the other residents of her building. Ethereally beautiful and formidably intelligent, she spends her hours reading Dante and dreaming about becoming a female mystic.
Until, that is, three sweltering days in July culminate in an act of violence that will change everything, and finally offer her a chance to escape. Savage and hilarious, The Rabbit Hutch is a piercing look at the power structures that shape us, and the tale of a young woman with irrepressible strength.

Tags:
Crouch End
Crouch End book club
Older Readers