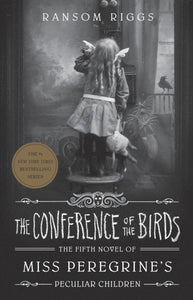 Return to the extraordinary world of Miss Peregrine's Peculiar Children . . .
A fragile peace. An apocryphal warning. Chaos waiting in the heart of the storm.
With his dying words, H - Jacob's final connection to his grandfather Abe's secret life - entrusts Jacob with a mission: Deliver newly contacted peculiar Noor Pradesh to an operative known only as V. Noor is being hunted. She is the subject of an ancient prophecy, one that foretells a looming apocalypse.
Save Noor, save the future of all peculiardom. With only a few bewildering clues to follow, time is running out. With enemies behind him and the unknown ahead, Jacob Portman's story continues as he takes a brave leap forward into The Conference of the Birds, the newest installment of the beloved, #1 bestselling Miss Peregrine's Peculiar Children series.
'Creepy in the best way possible' The Guardian
'Readers searching for the next Harry Potter may want to visit Miss Peregrine's Home for Peculiar Children' CNN
Hardback edition. This is book 5 in the series, for more titles in the series please contact us.