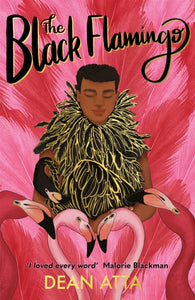 To all parents and carers,

We are celebrating World Book Day with an exciting event - author Dean Atta is visiting Kingsmead to talk all about his stories and what it's like being a writer!
Make sure to pre-order a book for your child for a personalised signing on the day.
All books will be delivered to the school and handed out to the children on the day of the event. You must let us know your child's name and class at checkout so we can ensure they receive their order.
Remember to include your child's name and class in the 'notes to the book fairy' when you view your shopping cart before checkout! If this option isn't available to you, please email olivia@pickledpepperbooks.co.uk with the relevant details.
The Black Flamingo
This is not about being ready, it's not even about being fierce, or fearless, IT'S ABOUT BEING FREE. Michael waits in the stage wings, wearing a pink wig, pink fluffy coat and black heels. One more step will see him illuminated by spotlight.

He has been on a journey of bravery to get here, and he is almost ready to show himself to the world in bold colours ... Can he emerge as The Black Flamingo?