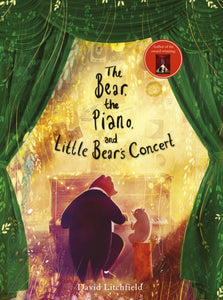 The third and final book in the best-selling, award-winning 'Bear and the Piano' trilogy. The first book in the trilogy - The Bear and the Piano - has sold over 120,000 copies in the UK and won the Waterstones Children's Book Prize, Illustrated Book Category for 2016.
You probably remember the story of the bear who found the piano in the woods and grew up to become a huge star. He played his music in front of millions of adoring fans and all of his wildest dreams came true.

But now, the audiences are smaller, the pianos less grand, and the applause is dying away. So Bear decides to retire. Back in the woods, he is sad that his dream is over but he soon has something to distract him: Little Bear! When Little Bear stumbles upon his piano in the woods, she can't believe it when her father says that no one wants to hear his music anymore.

So she comes up with a plan to prove him wrong. The final book in the award-winning, best-selling trilogy shows that while fame and fortune might be temporary, the best songs stay in your heart forever.

Tags:
Christmas
Picture Books