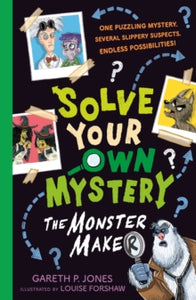 Pre-order your book here to be signed by the author at the festival!
One puzzling mystery. Several slippery suspects. Endless possibilities! Welcome to Haventry, a town where the ordinary and extraordinary collide! With ghosts, werewolves and zombies living side by side, trouble is always brewing.

And when a fiendish crime is committed, YOU are the detective in charge of the case. Dr Franklefink's precious Monster Maker has gone missing and there are lots of suspects! Along with your yeti partner, it's up to YOU to find the culprit. Should you trail Bramwell Stoker, the terrifying vampire, or Grundle and Grinola, the mischievous goblin twins? Should you follow up a lead about the cunning witches? Or will investigating the doctor's monstrous son Monty lead you to the thief? YOU decide! With hundreds of paths to choose from and no dead ends, you'll solve the mystery every time!A fantastically imaginative detective story for readers looking for an interactive adventure.