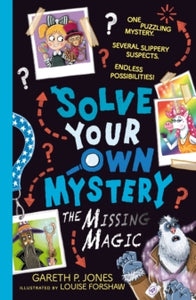 Pre-order your book here to be signed by the author at the festival!
One puzzling mystery. Several slippery suspects. Endless possibilities!Welcome to Haventry, a town where the ordinary and extraordinary collide! With ghosts, werewolves and zombies living side by side, trouble is always brewing.

And when a fiendish crime is committed, YOU are the detective in charge of the case. It's the first day of Magicon, the world's biggest magic convention, and everyone is in town for the event. But when all the magic in Haventry suddenly goes missing, it's up to YOU to find out who took it and get it back in time for the opening ceremony! Should you tail the head of the powerful Magic Circle, Grandmaster Dimbleby, or does the newly crowned king of the elves raise your suspicions? Could Enid the Evil Enchantress be too obvious a suspect, or is Moondance the meditating unicorn deceptively innocent? YOU decide! And you better do so quickly, because without magic to harness it, an ancient monster is rising from its century-long sleep under the town...

With hundreds of paths to choose from and no dead ends, you'll solve the mystery every time!A fantastically imaginative detective story for readers looking for an interactive adventure.