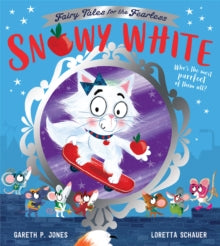 Pre-order your book here to be signed by the author at the festival!
A fearless, fun-filled fairytale - perfect for any little reader who loves a twist in the tale!
* With a fabulously foiled cover! *
Kingsley is the finest cat in the kingdom. How does he know? His crystal ball tells him so!
But one day, the crystal ball has a different story to tell. A new cat by the name of Snowy White has arrived in the kingdom. She's beautiful . . . she's kind . . . and Kingsley is determined to get rid of her.
Luckily, though, Snowy gets a helping hand - or seven - from some very special new friends!
The third hilarious title in a fun-filled fairytale series with empowering messages for young readers!