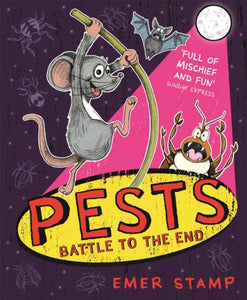 Remember to include your child's name and class in the 'notes to the book fairy' section at checkout!
Meet Stix ... a small mouse facing a very big challenge.

It's the summer term and that means the annual 'sports night' competition with PESTS local rivals, VERMIN. These 'outdoor' pests are a tough bunch. Their waspy headteacher, Sir Sting-a-lot, runs their school out of the dilapidated garden shed.

VERMIN are streetwise and in a league of their own, but it's been years since PESTS have lifted the trophy, but Stix and his friends are determined to do their best. So when VERMIN suddenly lose their edge and PESTS take the lead, it seems like their positive thinking has paid off. But something is amiss - and it has Professor Armageddon written all over it.

Can PESTS take down their old enemy and beat their rivals? It's PESTS for the win!