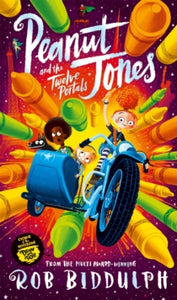 Pre-order your book here to be signed by the author at the festival!
The second instalment in 'Draw with Rob' Biddulph's magical adventure series finds our artistic hero striving to thwart a dastardly plan to destroy the world's priceless artworks.
Famous works of art are disappearing from all over the world. One moment they are there, the next, they have crumbled to dust. Peanut Jones, artist and adventurer, and her friends suspect it might have something to do with the magical world of Chroma and the wicked Mr White's plot to wipe out colour, art and creativity. It's time to head back to the Illustrated City and help the resistance fight back.
This second title in the hilarious adventure series for boys and girls aged 8 to 12 fizzes with magic, danger, friendship and art. It is fully illustrated throughout by Rob, the creative genius behind #DrawWithRob.