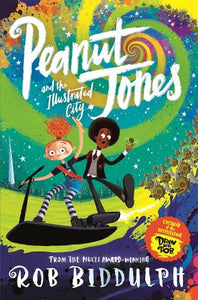 Pre-order your book here to be signed by the author at the festival!
The first part in an exciting new series from the multi-award-winning children's author and illustrator 'Draw with Rob' Biddulph, who whisks the reader into the world of Peanut Jones as she searches for her disappeared father and finds her pen charged with magical powers.
Some legends are born, some are drawn...
Drawing feels like magic to Peanut Jones. But art can't fix her problems. Her dad has gone missing, and she's stuck in a boring new school. Until the day she finds a unique pencil turbo-charged with special powers. Suddenly she's pulled into a world packed with more colour, creativity, excitement and danger than she could ever have imagined. And maybe, just maybe, she might find out what happened to her dad.