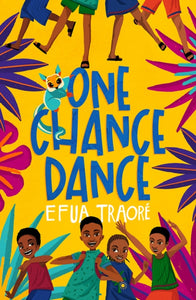 Efua Traoré is a Nigerian-German author who grew up in a small town in Nigeria. She won the 2018 Commonwealth Short Story Prize for Africa with her short story 'True Happiness' and she is a literature grant holder of the Munich Literaturreferat.
We are delighted that Efua is visiting the UK for a few days and will be delivering an author talk at Coleridge Primary School to the Year 5 group all about her book, One Chance Dance! This is July's Indie Book of the Month!
If you would like to order a book for your child to be signed on the day of the event, just add to your basket here.
Please remember to add your child's name and class to the 'notes to the book fairy' section at checkout! If this option isn't available, email olivia@pickledpepperbooks.co.uk with the relevant details.
Jomi's mum left when he was little to make a new life for them in Lagos, the city of dreams. When Jomi doesn't hear from her, he decides to follow. His only starting place is a TV dance competition that his mum used to love.

Things go badly for the boy and his pet bushbaby, until he meets a crew of street kids. Together, they come up with a one-chance idea to find Jomi's mother - and make their own dreams come true. A brand new novel full of joy and wonder by the author of Children of the Quicksands, shortlisted for the Waterstones Children's Book Prize A contemporary adventure of destiny, friendship and dance set in the vibrant city of Lagos, Nigeria.
Incredible story
My 10 year old loved this book and couldn't put it down.