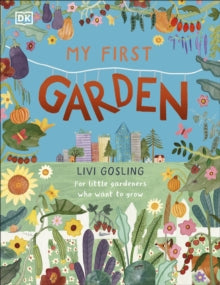 This beautifully illustrated guide is the perfect gardening book for kids who want to plant fruit and vegetables, create mini farms from plants, and go on wildflower missions. Dive into this children's guide to growing plants, from vegetables to wildflowers, for little gardeners with green fingers. With clear step-by-step instructions on how to get seeds, plant them, and help them grow, this book will help kids to get started with their very first gardening projects.
Children aged 5-7 will love getting stuck into gardening projects with My First Garden! Passionate gardener Livi Gosling has advice on creating places for plants to live in your home, scavenging from the recycling to create a vegetable kingdom, and adding a splash of colour to grey city streets with your own wildflower seed mix. This first gardening book for children features: - Beautiful illustrations combined with a fun approach to gardening for lovers of the ever-growing nature trend. - The basics for growing different plants for children, from gorgeous flowers to delicious fruit and vegetables.
- Advice and projects inclusive of all homes, including rented flats - you don't need a huge gardening space to get gardening!- A strong eco-message, with info about what seasonality is, planting for pollinators, reusing and recycling things in your garden, and encouraging rewilding of your area. No matter how tiny your space, you can be a gardener! Featuring plenty of inspiration and helpful tips, this gardening book makes a lovely gift from parents and grandparents who want to encourage hands-on hobbies, and is a great eco activity for kids to get outdoors and away from a screen.