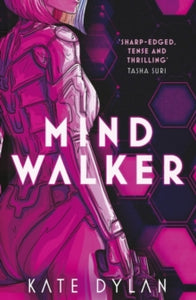 Eighteen-year-old Sil Sarrah is determined to die a legend.
But with only twelve months left before the supercomputer grafted to her brain kills her, Sil's time is quickly running out. In the ten years she's been rescuing field agents for the Syntex corporation - by commandeering their minds from afar and leading them to safety - Sil hasn't lost a single life. And she's not about to start now.
But when a critical mission goes south, Sil is forced to flee the very company she once called home. Desperate to prove she's no traitor, Sil infiltrates the Analog Army, an activist faction working to bring Syntex down. Her plan: to win back her employer's trust by destroying the group from within.
Instead, she and the Army's reckless leader, Ryder, uncover a horrifying truth that threatens to undo all the good she's ever done. With her tech rapidly degrading and her new ally keeping dangerous secrets of his own, Sil must find a way to stop Syntex in order to save her friends, her reputation - and maybe even herself.