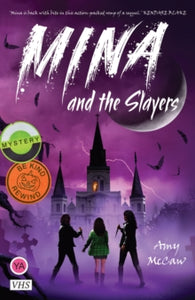 NEW ORLEANS, 1995. MINA'S HAVING A KILLER HALLOWEEN. Three months after Fang Fest, Mina's settling into her new life.
Despite the teething problems in her relationship with Jared, she has her sister back, new friends and a part-time job to die for. Over Halloween, Mina and the gang have planned a spooky week of Gothic restaurants, horror movies, ghostly tours, creepy carnivals and a costume ball. But the fun doesn't last.
Mina is on work experience with Detective Cafferty while the police are investigating a savage masked killer and a rise in suspicious 'animal attacks'. During her own investigations, Mina discovers a mysterious group of slayers, who are battling to control the rogue vampires. The threats circle closer as Mina spends her days with the police and nights with the slayers.
Will she and her friends survive Halloween without being staked, stabbed or bitten?