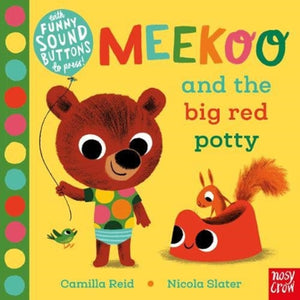 Baba is a baby bear and wears a nappy - but Meekoo is a big bear now and can use the potty! Unfortunately, even big bears have accidents sometimes . . .
Nicola Slater's charming artwork and a funny sound on each spread bring Meekoo's potty training day to life. Little ones will love pressing the buttons and joining in with the big cheer at the end!

Tags:
Baby & Toddler
Gifts
Potty Training
Potty training two year olds under lockdown
The two little people I bought the books for have absolutely loved them. The book reinforces the success of weeing in the potty with humour and sound! Its a very simple story but very contextual to the two toddlers in question. Star and reward charts are being filled daily!