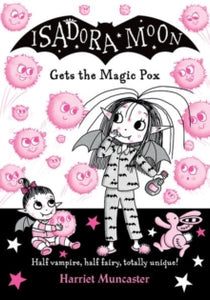 Isadora Moon is special because she's different. Her mum is a fairy, her dad is a vampire, and she's a bit of both. When Isadora's teacher announces the class are having a maths test on Monday, Isadora gets a nervous feeling in her tummy.
She really doesn't like tests . . . 
or maths! Maybe, Isadora could pretend to be ill so she can stay at home instead? Isadora calls her naughty cousin Mirabelle for help and she gives her a spell that will help Isadora get out of the test. To Isadora's delight, it works! But between a potion mishap and magic pox fluffballs bouncing around all over the place, Isadora starts feeling a bit guilty. Luckily, her mum is on hand to help set things right and together they come up with a new, magical way to say goodbye to the magic pox and even make revising for the maths test fun! With irresistible pink and black artwork throughout by author/illustrator Harriet Muncaster, Isadora Moon is a unique heroine with an out-of-this-world family!