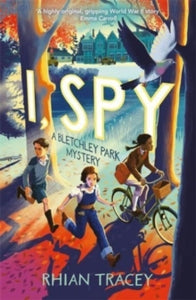 A thrilling mystery adventure set in Bletchley Park at the start of World War II, based on true events. Perfect for fans of Phil Earle and Hilary McKay. "A highly original, gripping World War II story" - Emma CarrollTwelve-year-old Robyn has grown up in Bletchley Park, where her father works as a driver.

When she's not at school, there's nothing she likes more than helping her dad in the garages. Then the war begins and everything at Bletchley changes. Robyn is assigned to help with the carrier pigeons that take messages to the Allies.

But first, she must sign the Official Secrets Act and is ordered not to leave the grounds of the park. While Bletchley is buzzing with people recruited for the war effort and all eyes are on the skies, Robyn becomes convinced that there's something sinister going on within Bletchley Park itself. Together with her friends Mary and Ned, Robyn resolves to uncover the enemy in their midst . . .
'I loved this spy mystery about Robyn and her friends as they try to uncover the enemy in their midst. Rhian's wonderful descriptions of Bletchley Park made me feel I was there in one of the most famous settings in WWII Britain. Readers will be hooked till the end.' Sufiya Ahmed, author of Rosie Raja: Churchill's Spy