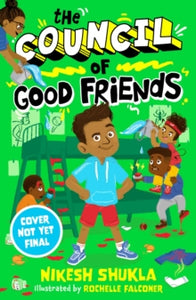 Please remember to add your child's name and class to the 'notes to the book fairy' section at checkout!
Nikesh Shukla will be visiting Highgate Primary School on 7th November!
This link is for a personalised signed copy of his new book, 'The Council of Good Friends'
A funny and heart-warming story for readers aged 6-9 from award-winning author Nikesh Shukla. Vinay, Musa, Inua and Nish are best friends. Nothing can separate them...

until one day when Vinay's cousin comes to invade his bunk bed haven (i.e. share his room). When a prank war starts, can the friends remember what really matters? Filled with fun illustrations by Rochelle Falconer, The Council of Good Friends is full of both hilarious mayhem and caring moments of friendship.

Tags:
Highgate Primary School
School Event
Pickled Pepper Perfection
As always, the brilliant Pickled Pepper curated a great book and author talk. My son was ecstatic to get a signed copy, and loved Nikesh Shukla's visit. He devoured the book too. Hard recommend all-round!