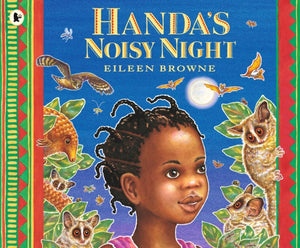 Please remember to include your child's name and class in the 'notes to the book fairy' section at checkout.
The latest installment in Eileen's Browne's acclaimed Handa series is a warm, funny story about night-time fears with a cast of nocturnal animals and a Kenyan setting. When Handa has a sleepover with her friend Akeyo, the girls are allowed to spend the night in a little hut near the house. They're excited to be on their own, but as they get ready for bed, Handa feels more and more nervous.

She keeps hearing things - strange snorts, chitter chattering, a big thud. Akeyo says it's only her noisy family, but on the opposite page the reader sees the nocturnal animals who are really making the noise - and while some of them are familiar, others are very peculiar-looking indeed!With rich, night-time illustrations, sound effects, and plenty of curious animals, Handa's Noisy Night demands to be read aloud and shared - whether in the classroom or tucked up in bed at home.