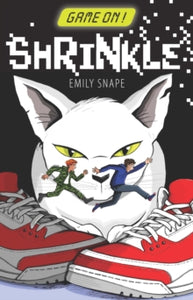 Gaming-obsessed Max and his infuriating younger brother, Liam, are forced to work together to survive epic adventures on a miniscule scale. When rebellious Liam starts playing 'Shrinkle' on his babysitter's phone, he has no idea what he's letting himself in for. The app shrinks the brothers to the size of a minifigure! Their safe home has suddenly become a treacherous landscape. Can they scale sofa mountain, escape Miss McBoob's snoring mouth and outsmart the now-enormous pet cat? And will they stay tiny forever?
Author and illustrator Emily Snape's sons were both reluctant readers, which made her want to write books that they wouldn't be able to resist reading! Reading should be a pleasure and it was Emily's aim to write books that pull you in and hook you from the start. 'Hopefully, then you can't help being moved by the characters as they grow and develop. I love comedy in books, but funny books also have to have heart, believable characters, and a great plot that keeps you reading till the very end.'
With a clever mix of realism and fantasy and packed with exciting gaming strategies, crazy scenarios and gross facts, Game On: Shrinkle is perfect for reluctant readers.