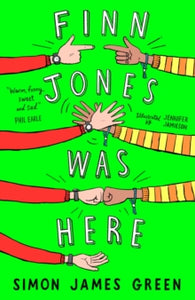 A funny, heartbreaking story about life and loss, and making every second count. Eric's best friend, Finn Jones, was the world's biggest prankster. Now Eric can't believe Finn's not here anymore.
... Or is he? Eric seems to be getting messages from beyond the grave, and as he follows Finn's wild, cryptic instructions, his hope grows that he'll find Finn laughing at the end. The journey also brings memories - and a truth that seems impossible to accept. Simon James Green is the award-winning author of books like Sleepover Takeover and The Life of Riley: Beginner's Luck, which was shortlisted for the Blue Peter Book Prize.
This story blends hilarity with heart, perfect for fans of books by Helen Rutter, Frank Cottrell-Boyce, Ben Bailey Smith and Ross Welford. Hilarious illustrations throughout by Jennifer Jamieson PRAISE FOR SIMON'S MIDDLE-GRADE BOOKS Sleepover Takeover "This is a fantastically funny, exciting, unexpected, and sometimes touching, mystery thriller" BookTrust "A funny madcap mystery adventure perfect for fans of Danny Wallace's THE DAY THE SCREENS WENT BLANK or Charlie Higson's WORST. HOLIDAY.