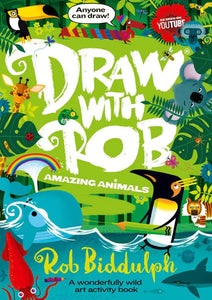 Pre-order your book here to be signed by the author at the festival!
The viral phenomenon #DrawWithRob is now an activity book for you to draw with Rob at home! As seen everywhere on YouTube, Facebook, TikTok, TV, and more, from the creative genius and bestselling author Rob Biddulph!
At home and wondering what to do? Pick up your pencils and join thousands of children around the world and #DrawWithRob – packed with amazing animals for you to draw and enjoy!