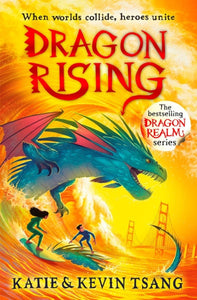 Remember to put your child's name and class in the 'notes to the book fairy' section at checkout!
Billy, Dylan, Charlotte and Ling-Fei are back in their hometowns, missing each other and their dragons.

While out surfing one morning, Billy panics when a water dragon emerges out of the waves, and soon strange sightings are being spotted all over the world. Meeting back in Dragon Realm, the friends, their dragons and two new acquaintances join forces to investigate. But what unravels is a dastardly plan concocted by an evil baddie and a human and dragon battle that will go down in history.

It's up to Billy and friends to save the world, but can they do it?