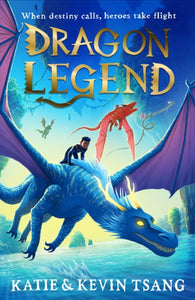 Remember to put your child's name and class in the 'notes to the book fairy' section at checkout!
Guardian Billy Chan and his friends are not having a very relaxing summer.

Their friend, Dylan, has been kidnapped by the evil Dragon of Death and it's up to them to travel through time, back to the dangerous Dragon Realm, in order to save him. Luckily they have their own dragons on side, but they'll need to collect eight magical pearls if they're to amass enough power to destroy the Dragon of Death and her followers for good. So begins an epic quest that will take them to the depths of the Frozen Wasteland and the imperial palaces of Ancient China.

But can good triumph evil...?