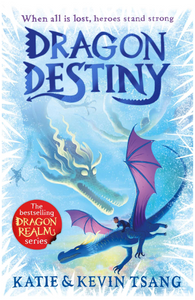 Remember to put your child's name and class in the 'notes to the book fairy' section at checkout!
The first DRAGON REALM series reaches its epic finale with the fifth adventure. All eyes are on Billy and his friends after the Dragon Realm collapses and is exposed to the Human Realm.
In their search for a new home for the dragon population, they learn of the Hidden Realm, a secret so well guarded that only one dragon knows how to locate it...

Glorious Old. But convincing her to trust them comes with its own problems, not to mention the introduction of an evil new baddie and their band of human-hating dragons. With trouble round every corner, what destiny is in store for Billy and the group?