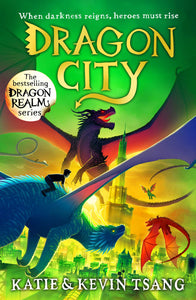 Remember to put your child's name and class in the 'notes to the book fairy' section at checkout!
Humans now live to serve the dragon population and it's no different for Billy Chan and his friends.

After losing contact with their own dragons, they're determined to track them down in this new city, even if it means putting their own lives at risk. But one dragon has turned to the dark side and has no plans to return. With the help of a new clan of dragon friends, can Billy, Dylan, Charlotte and Ling-Fei undo the Dragon of Death's villainous work or will she triumph eternally?