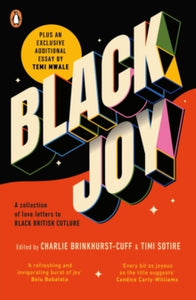 Black joy is . . .
The babble and buzz of the barber shop. Chicken and chips after school with your girls. Stepping foot in your mother country for the very first time.
Feeling at one with nature. Learning to cook souse with your mum. Connecting with the only other Black colleague in your workplace.
Loving and finding complete happiness in your fatness. Joy surrounds us. It can be found it in the day to day.
It's what we live for. So why do we so rarely allow ourselves to revel in it? This must-read anthology is your invitation to do so - and is a true celebration of Black British culture in all its glory. Edited by award-winning journalist, and former gal-dem editor-in-chief, Charlie Brinkhurst-Cuff and up-and-coming talent Timi Sotire, twenty-eight iconic voices speak on what Black joy means to them in this uplifting and empowering anthology.
With essays from:Munya Chawawa -- Leigh-Anne Pinnock -- Diane Abbott -- Jason Okundaye --Bukky Bakray -- Faridah Abike-Iyimide -- Lavinya Stennett -- Henrie Kwushue Chante Joseph -- Travis Alabanza -- Isaac James -- Sophia Tassew -- Lauryn Green -- Melz Owusu -- Timi Sotire -- Fope Olaleye -- Richie Brave -- Tope Olufemi -- Athian Akec -- Mikai Mcdermott -- Ife Grillo -- Rukiat Ashawe -- Mayowa Quadri -- Tobi Kyeremateng -- Haaniyah Angus -- Theophina Gabriel -- Ruby Fatimilehin -- Vanessa Kissule---"A refreshing and invigorating burst of joy, exploring the beauty in the nuances of our existence, honing in on what propels us forward, and establishing a vital hope" - BOLU BABALOLA, author of Love in Colour"Every bit as joyous as the title suggests'" CANDICE CARTY-WILLIAMS, author of Queenie"A rich, gorgeous celebration of the power in embracing joy" LIV LITTLE"Black Joy is a delightful celebration of Black Britishness" MASHABLE

Tags:
Black Lives Matter
Non Fiction