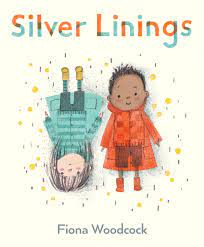 Perfect for story-time and bedtime sharing, Silver Linings is a funny picture book about friendship, resilience, overcoming anxiety, and staying positive in the face of adversity, from acclaimed author-artist Fiona Woodcock.
Unfortunately, Pip's day is just one setback after another. Everything goes wrong- even things that are supposed to be fun!

Fortunately, Pip's best friend, Parker, can see the silver lining.
Fortunately, Parker can turn a mistake into a triumph. 
Fortunately, Parker can bring a smile back to Pip's face. 
So what happens when something really big goes wrong for Parker? Will Pip find the silver lining for her friend?
A story about friendship, perseverance, positivity, and hope, from award-winning artist Fiona Woodcock.

Tags:
Baby & Toddler
Picture Books
Signed Books