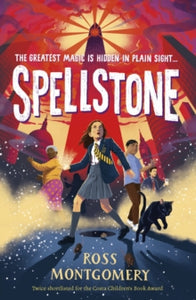 Discover a world of magical storytelling from a twice Costa-shortlisted author. "One of our finest children's writers." Phil Earle "A master storyteller." Aisling Fowler "Another absolute triumph from one of my favourite children's authors." Catherine Doyle
The greatest magic is hidden in plain sight... Evie is used to not being noticed. But when she meets the mysterious Wainwright, she discovers that going unnoticed might just be what makes her unique...

Recruited into a secret magical organization, Evie finds herself at the heart of an ancient and magical battle. Evil is returning to the land, and Evie is the only person who can stop it. But how can she defeat the most dangerous magician in the world, when she doesn't even know her own powers? Don't miss Ross's other fantasy novels for young readers: The Midnight Guardians, The Chime Seekers PRAISE FOR SPELLSTONE: "The very definition of a page-turner: riveting, punchy, with surprises around every bend."