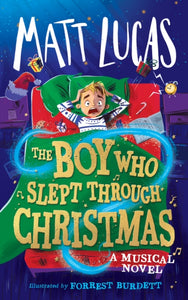 Your School attended Hornsey School for Girls to meet Matt Lucas as he hosted an extra special author event all about his new book, 'The Boy Who Slept Through Christmas'!
If you didn't manage to order your book in time for the event, don't worry! You can still order through us here and we'll get your books delivered straight to your child's school
You MUST provide the following information:
Please remember to add your child's name and school in the 'Notes to the Book Fairy' section at checkout. If this is not available please email the relevant details to laura@pickledpepperbooks.co.uk

Leo LOVES Christmas. And this Christmas needs to be absolutely perfect, because it's the first one without Mum. Only it all keeps going wrong!
The fairylights are in a tangle. The Christmas cards aren't finished. The tree isn't decorated. And the Christmas cakes have all been destroyed!
Soon Leo decides he's had enough - he makes a heartfelt wish that it would all GO AWAY.

Then Leo wakes up on Christmas morning - and it's gone! All of Christmas! But Leo isn't going to let it escape that easily...

Join Leo as he sets out on a mission to undo his wish and get Christmas back in the brand-new festive classic by bestselling author Matt Lucas. Home Alone meets A Christmas Carol in a hilarious adventure with a big dollop of festive magic. Funny, sensitive and emotional in all the best ways, this warm and seasonal family story touches ever so gently on childhood grief but is wrapped up in a chaotic and heart-warming adventure.