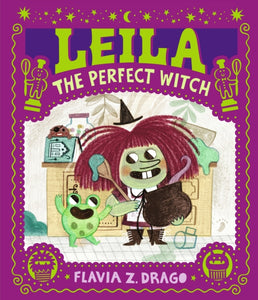 Flavia Z Drago will be at our shop on Thursday 27th to personally sign copies of Leila the Perfect Witch. Order your copy before 5pm on the 27th to get it personalised. We will have limited signed copies available after this date. 
Leila Wayward is an extraordinary little witch who excels at everything she does. She's the fastest flier, the most cunning conjurer and the sneakiest shape-shifter.

She is also the youngest in a long line of master bakers, so Leila's big dream is to win the most infamous culinary competition around: The Magnificent Witchy Cake-Off! But even with the most bewitching of recipes, Leila realizes a terrible truth: she's a disaster in the kitchen! Luckily, Leila has three magical sisters who are always there for her. Can they remind her to have some fun along the way? Set in Mexico, this vibrant story - brimming over with delicious sweet treats - is a celebration of sisterhood, taking part, and the simple joy of making (and eating!) food together.
We ship worldwide! Signed books will be sent out on Friday 28th October after Flavia's visit. 


Tags:
Halloween
Pickled Picks
Picture Books
Signed Books