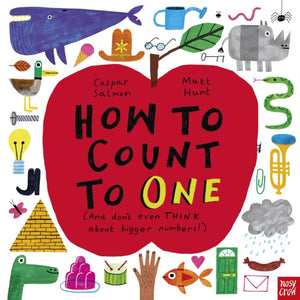 A hilariously bossy picture book about counting that children will love to outsmart!
You know how to count, right? GREAT! There are LOADS of fun things to count in this book. Whales, baboons, rainbows, pyramids... there's just rule.
You must ONLY ever count to ONE.

So don't even about THINK bigger numbers. OK?!
Get ready to show off your skills in this fun new counting book! 
But all is not as it seems... is this book really only about counting to 'ONE'? Because there are SO MANY fun things that you could count. But - wait - maybe there's a way to outsmart the book... and count all the way up to 100!

Tags:
Picture Books
Signed Books