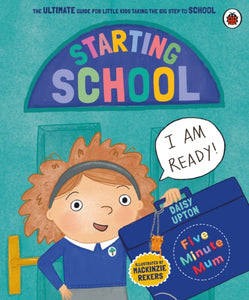 Join us for the book launch of bestselling author and social media superstar, Daisy Upton!
Daisy Upton – aka social media superstar Five Minute Mum – will be celebrating the launch of her new book Starting School at Pickled Pepper Books on 20th June at 2.00pm
Starting School is a gentle, funny picture book guide to taking the big step to big school, and ex-teaching assistant Daisy will be on hand to read from the book and answer all the big and little questions about what to expect in the first term.
Starting School gives you and your little one glimpses of all the learning they will do and all the fun they will have.
Share this gentle, funny guide with your child to support them - and you! - with uniforms, meeting their first teacher, getting to school on the first day, making new friends, finding their way around, having fun at playtime, asking for help, packing their bag, learning about letters and numbers, going to assemblies, getting changed for PE, and much more.

And, of course, this book includes lots of five-minute games and activities designed by Daisy to help your child feel confident and excited about taking the big step to big school.

Date: Tuesday 20th June
Time: 2pm - 4pm
All tickets include a copy of the book - please select collection on checkout if you would like to attend or delivery if you would like a signed copy.
Please note tickets are required for children only and parents must be present for the duration of the event.

Tags:
Personally Signed Pre-Orders
pre-order
Signed Books