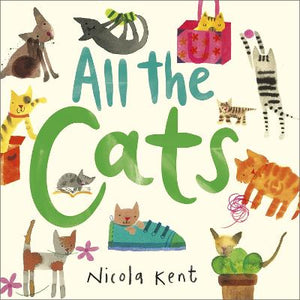 Pre-order your copy of All the Cats now to get it personally signed by Nicola Kent!
Add your personalised message to the 'notes to the book fairy' at checkout.
Created by the 2019 winner of the UK Independent Booksellers' Best New Illustrator Award!
Nicola Kent presents... ALL THE CATS! Short cats, tall cats, careful-not-to-fall cats. Itchy cats and scratchy cats - can you see the matching cats? Spot the miles and miles of cats jam-packed into this gorgeous feline picture book!
Read along and spot your favourite, then read Nicola Kent's matching book: All the Dogs.

Publication: 3rd Feb 2023

Tags:
Pickled Picks
Picture Books
Signed Books
All the Cats shimmers with joy
What a wonderful, joyful exuberant book Nicola Kent has created. Thank you for bringing so much fun to each page.